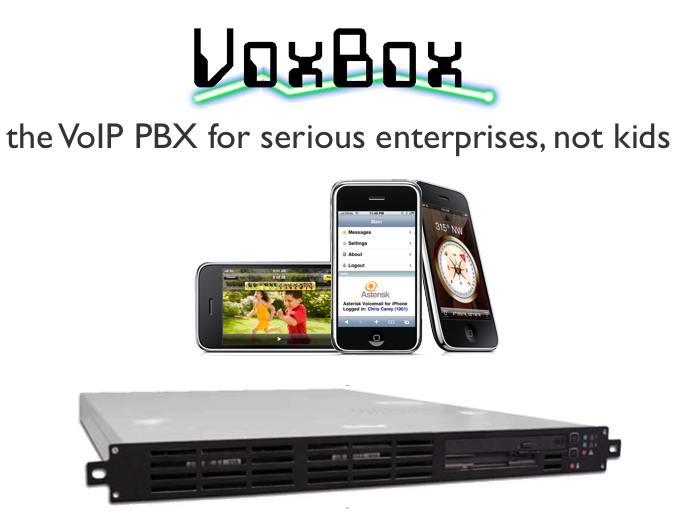 VoxBox
is an Open, Simple, and Standard package for VoIP PBXs.
VoxBox 1.4
is composed of a customized distribution of CentOS 5.2, Asterisk 1.4.21, FreePBX 2.4, and Webmin 1.4. VoxBox provides easy pronvisioning for Polycom phones, VegaStream gateways,
Vonage Business Plus
and
nexVortex
service, while maintaining the flexibility to interface with all Asterisk peripherals and software packages.
---

---

Download the VoxBox 1.4 -
ISO image and the MD5 checksum.

VoxBox Screenshots: 1, 2, 3, 4

VoxBox 1.4 adds secure https as the default for all web-based system configuration.

VoxBox provides a simple all-in-one packaged VoIP PBX while maintaining the standard out-of-the-box installation environment enjoyed by Asterisk VoIP system installers. The VoxBox concept is simple; major system components of a phone system should just work. Phone systems should not be upgraded on a whim like PCs in an office, but they should be monitored and administered very closely.

VoxBox aims to provide major component upgradeability in a standard manner without the "bling" of other Asterisk-based distributions.

VoxBox tries to be as clean as building the system yourself from scratch. All Asterisk components are compiled from source to match your hardware. If you want to integrate more packages on top of the base system, you can feel confident that the core components are installed in their native and customary locations and compiled to match your system specifications.


Most of all, users and managers can feel confident that they are not locked into a proprietary or semi-open solution.

The VoxBox web interface is multi-platform and looks best using Safari or Firefox browsers. The VoxBox PBX distribution is fully developed and tested in Apple Macintosh environments.


Why "VoxBox"? After all, it is a very common name. True, but it sounds good! VoxBox was the name of the voice synthesis development system and voice-enabled SCADA systems originally developed by Binary Systems, Inc. in the late 1970s. We just wanted to keep the theme going, and it made a nice logo.